Kunekune, the perfect homestead pig
We raise humanely, farrow to finish, pasture-raised, and well cared for Kunekune pigs. The Kunekune are a heritage breed of grazing pigs originating from New Zealand. Maori families were first introduced to these pigs by whalers and traders in the early 1800s. The name kunekune is Maori for "fat and round". They were docile enough to keep in their homes and patrol for kitchen scraps. Kunekune are hardy, docile foragers that have a small ecological footprint and are easy on our fences.
In our opinion, they are the perfect homesteading breed for our family. They fit right into our homestead here in Cobble Hill, Vancouver Island, BC, Canada.
Kunekune are extremely efficient at converting feed and have minimal feed needs in comparison for a fast-growing market hog, but the trade-off is that they take about 12 months to grow out to 150-200 pounds while they graze on pasture. Your reward for waiting a year though is slow-grown, grass-fed, succulent, dark red pork. Our focus on pasture pork genetics results in a quality hanging weight of 110-150 pounds each. We chose these pigs for their easy-going disposition, their ability to sustainably bulk up off what is grown here on the farm, and for their delicious, deeply coloured, marbled pork. We raise happy pigs that get to exhibit all their piggy behaviours. Our pigs live out on pasture their entire life with appropriate shelters that they have free choice access to. In addition to the pasture, they eat veggies from our table and garden with no fillers in their diet. Fall is an especially exciting time for them when they get to help us upcycle all the windfall fruit from our orchard. They are not given hormones or preventative antibiotics, but they do get lots of tummy rubs when they ask for them.
We offer whole or half hogs and charcuterie cuts seasonally, weaner piglets that you can raise yourself for family pork, outdoor pet stock for your hobby farm, and registered breeding stock.
Piglets for Sale
Why raise a Kunekune?
If you are like us and want to produce your own pork, this is an amazing homestead heritage breed to add to your farm. Their slow growth rate, succulent meat, and desire to forage on grass make them very cost-effective and efficient grazers.​ They are a mid-size breed that grows around knee-high and have a hanging butcher weight around 110-150 pounds around 12 months. It is very easy to overfeed a Kunekune, so watch that you don't overfeed them.
With a temperament closer to that of a labrador than a boisterous pig, Kunekunes are more than happy to greet you at the fence when you get home and to flop over for a tummy rub. While we respect all of our farm fauna as livestock and take standard livestock precautions of wearing proper footwear and observing behaviour, the temperament and size of Kunekunes helps us feel much safer having our small children help out with chores.
Meet the Parents
Our herd was selected with pastured pork production and the International Kunekune Hog Registry (IKHR, AKPR previous to 2021) breed standard in mind. All of our breeding stock is dual registered with IKHR and AKKPS and piglets may be registered to either registry. We are very proud of our foundation herd which represents a great selection and diversity of bloodlines and pastured pork genetics.
Our Boars
Forrest
Forrest is a rare black Boris boar that comes to us from Ivanleigh Farms in Quite West, Ontario. His father is Boudin Noir (USA Boris 4++) produced by The Historic USA Herd and his paternal grandma is the original Aria Giana imported from New Zealand. Boudin Noir has produced several stunning offspring including Champion and Supreme Champion offspring. The Boris line is still rare in Canada and adds conformation, size, type, and diversity to our herd. Forrest's mother, Serendipity (SHF Kereopa 7) is out of the breeding program at Sisters Heritage Farms and is another rare line in Canada adding excellent diversity to our breeding program. Most importantly, Forrest is a beautiful, consistently producing hog.
Titan
Titan excites us and is a welcome addition to our program. His sire, Goliath (WN Te Whangi 5) exceeded 300lbs in 18 months (well conditioned and not overweight) and both his parents have strong pasture pork pedigrees. He has the length we look for, outstanding depth, beautiful type, and very upright pasterns.
Banks
Banks is our first homegrown and retained boar. From a small piglet, he demonstrated a high rate of gain potential and exhibited the best traits from his parents.
Archer
Archer's half-sister is in our breeding program and we were so impressed by her type that we decided to add more of their incredible growth genetics to our program. As a bonus, Archer is from an all-wattled litter of 12 and from a breeder with an active and thriving pastured pork program.
Our Sows
Cedar
Cedar was bred for outstanding pasture pork genetics with exceptional size and conformation. She comes to us from Whispering Wind Farm in Alberta. She is out of ILF Jenny 1 "Emilia" (USA Mahia Love 63 x USA Jenny 133) who's pedigree boasts four Supreme Champions in just the first three genetic parental lines and TIHF Te Whangi 8 "Gunther" (Rainbow Te Whangi 1+ x USA Rona 1) who has exceptional length, size, and a gentle disposition.
Sandy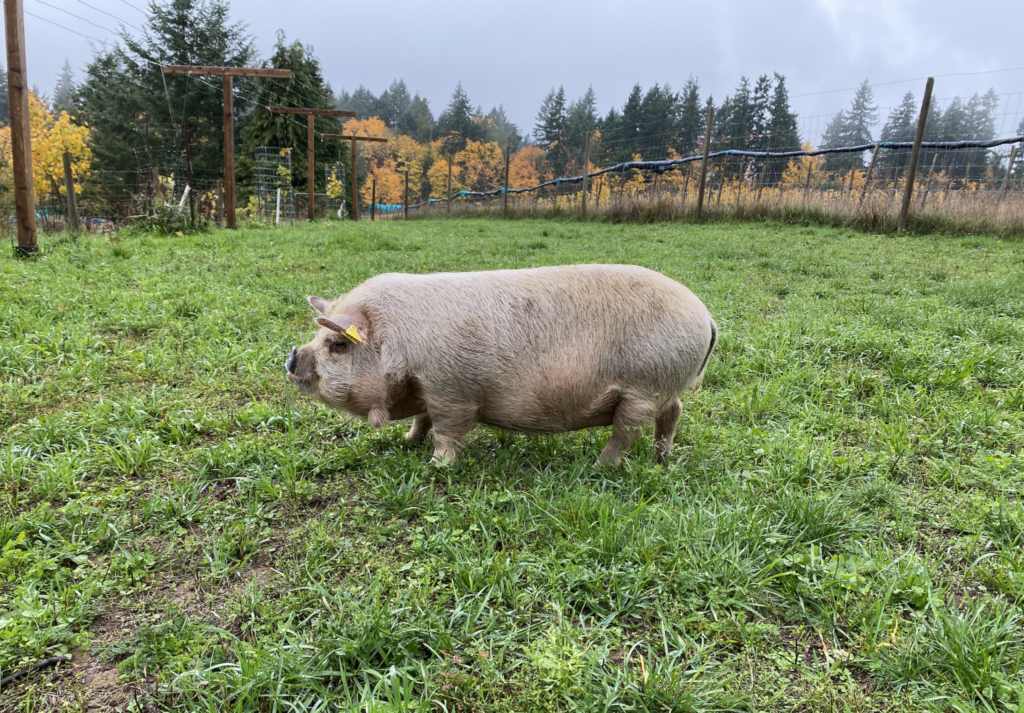 Sandy is a large framed gilt that exhibits excellent growth and type. While she is large, she is also mild-mannered. We look forward to working with her genetics and the Haunene line.
Luna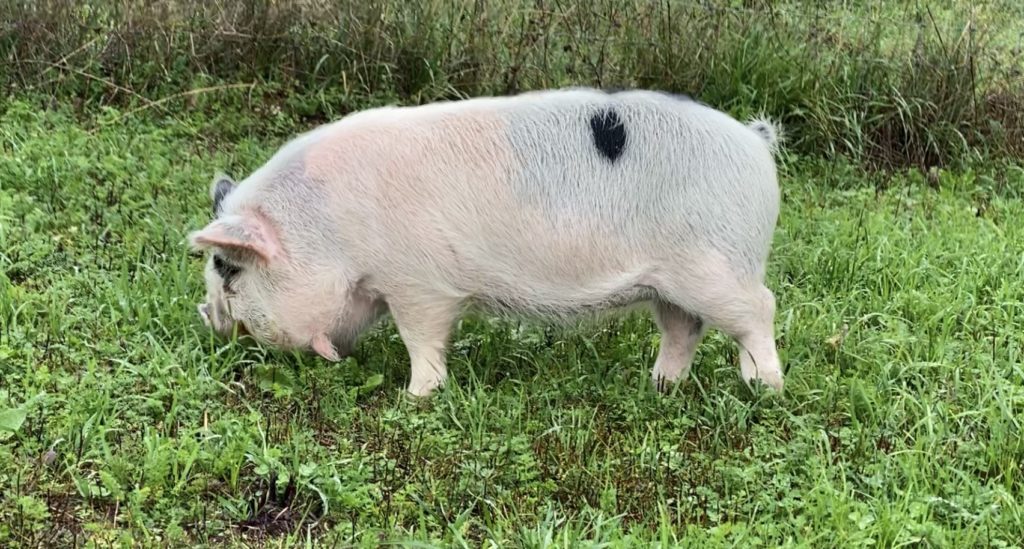 Luna is out of Baker's Special, who is directly out of Bakers Man (one of our all-time favourite Grand Champion boars) and Bushel Of Corn (one of our all-time favourite Champion sows). Luna was the largest in her litter and bred for pork production and maternal instincts. Colour sometimes detracts from type, but this gilt's gorgeous pasture pork type and classic Kunekune head is only enhanced by her flashy high white colouring that she gets from the famous BAIN Tapeka 2 – also known for her incredible milk line that fuels great growth gains for her piglets.
Milly
Milly was the result of hours of research into pasture pork genetics and working with Nova Kune Heritage Pork for an especially requested litter. Milly is the pick of her litter of 10. Her dam, Masquerade boasts a whopping 8/9 nipple line was quiet and maternal from her very first parity. This gilt adds concentrated Tapeka genetics (maternal and paternal granddam) to our program with that famous milk line that gives piglets an outstanding rate of gain from the start. She also adds concentrated Mahia Love genetics (paternal and maternal grandsire), tracking back to Supreme Champion Robert Bakewell and Brotherly Love which are known for their strong pasture pork genetics. With genetics on her side and already an outstanding length for a teat line of 7/8, we expect large litters, large piglets, and high-quality pasture pork production out of Milly and her offspring.
Lily
Lily is out of one of our first sows, Willow. She is the pick of the litter with a 6/6 teat line, strong feet, long/straight topline, and a high tail set. Her paternal granddam is Emelia (ILF Jenny 1), one of our favourite Jenny sows. Her genetics add diversity to our herd while also compounding the genes we love. We expect type and size out of this gilt and we are looking forward to having her in our program!
For Sale
2022/2023 Litters – stay tuned for updates
Planned breeding: Sandy (Haunene) x Titan (Te Whangi), potentially due July 12, 2022
Planned breeding: Cedar (Jenny), potentially due January 2023
Planned breeding: Luna (Rebecca Gina), potentially due January 2023
Planned breeding: Milly (Tapeka), potentially due April 2023
Planned breeding: Sandy (Haunene), potentially due April 2023
Complimentary ground delivery is offered within an hour of Cobble Hill, BC. Accommodation can be made to facilitate ground shipping arranged by the buyer. Livestock transporters must be experienced and professional to be considered.
Prices on Kunekune Livestock
Kunekune are herd animals and feel most comfortable when kept with other members of their own species. They should be purchased in groups of two or more if you do not already have a compatible herd for them to join. Keep in mind that breeding boars and gilts must be separated at six months of age until they are ready to breed at around twelve months old and they will need compatible companions during the separation.
We recommend that those new to Kunekune start out with either two barrows (castrated males) or a starter group of four pigs. A group of four pigs ensures you have enough pigs to separate them into two groups when required. Barrows make great companions for gilts and boars until they can be combined again at breeding age, which is also the time the barrow(s) will be ready to harvest – accelerating the timeframe for your first round of homegrown pork.
Group compositions could look like:
Two or more barrows kept together
A gilt and a barrow

separated

from a boar and a barrow
Two or more gilts

separated

from a boar and a barrow
Two (or more gilts)

separated

from two (or more) boars
Price ranges are reflective of Canadian market price, conformation, lineage, and colouration. All sales are in accordance with our Heritage Hill Farm Animal Sales Policy and include the cost of registration, de-worming, first vaccinations, and ear tagging (required by Canadian law to transport breeding stock). A 50% deposit is required to hold your piglet(s) and full payment and any travel expenses, are required before any livestock departs Heritage Hill Farm.
Starter packages of pairs, trios, and companions – Inquire for availability
Registered boar – $1250-$1500
Registered gilt – $1250-$1500
Meat barrows – $400 at weaning, increasing with size and age. Priority is given to those purchasing meat piglets as companions for our breeding stock.