Taste the Difference!
Browse through our bountiful selection of organic apples, pears, plums and a few less expected but delicious varieties that our farm has to offer. We are talking figs and citrus! Our fig trees are perfectly suited to this climate and overwinter here with no issues while our citrus trees come in for a winter vacation in our solarium to beat the frost. There is nothing more exciting here than a fresh, homegrown lime!
Local produce is freshly picked, packed with nutrients, and selected for flavour and sustainability. Commercial produce has to be shipped for days or even weeks from as far as other countries. Choosing local means there is less of an environmental impact in the way the produce is grown, picked, harvested and transported, there is a higher nutrient density since the food is so fresh, and you know that the people farming here live here too! We want the land to be better than when we started and use all-natural organic methods to manage it. That means you won't find pesticides or intensive farming methods here.
Stock up today on fresh, nutrient-dense, organically grown produce!
Varieties and Offerings
APPLES
Apples our grandparents grew! We have varieties from July all the way to November. We have superb cooking apples, outstanding eating apples, historic russeted apples, novel and delicious red-fleshed apples, and apples with spicy, nutty, and vanilla notes to name a few. There is something here for everyone in the family.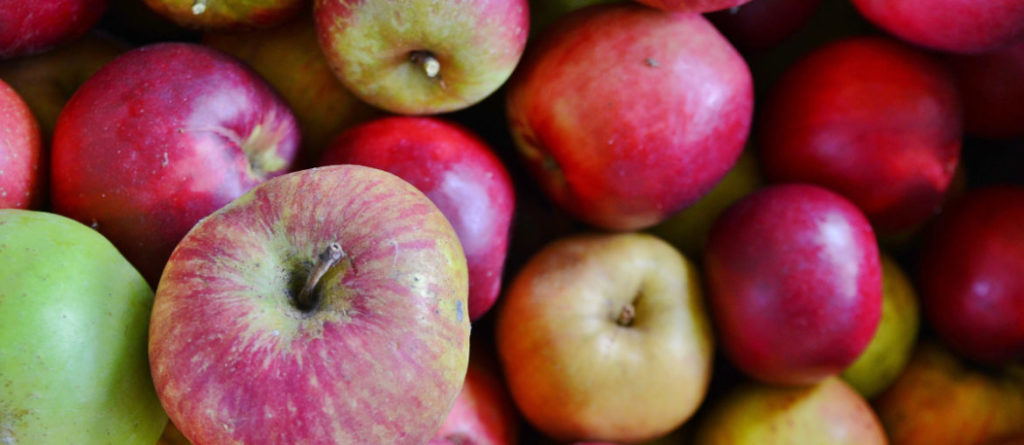 Early Season (Late July to Early September)
Pristine: This is a nice cooking apple but even better for eating fresh. It was bred in Indiana and introduced in 1994.

High-quality flavour and texture for an early apple. High sugar content.

Williams Pride: This beautiful, crips eating apple was bred in Indiana and introduced in 1987.

Firm, with an excellent sugar/acid balance and unusually complex flavour for an early apple.

Gravenstein: This is a great cooking apple early in the season and becomes a wonderful eating apple later in the season. It was first grown in Denmark in 1669. This apple retains quality well into January when stored properly.

Juicy and crunchy with a classic sweet-tart apple flavour.
Mid Season (Late September to Early October)
Sweet Sixteen: This is a great fresh-eating apple and an interesting cooking option that gives off vanilla notes when cooked. It was bred in Minnesota and introduced in 1973.

Firm, crisp, aromatic, moderately acidic, sweet.
Late September

Jupiter: This variety was parented by the beloved Cox's Orange Pippin. It was raised from a seed in Kent, England in 1981.

Sweet, juicy, robust and intensely flavoured. Also distinctly aromatic.
Early October

Gala: This is a cross between Kidd's Orange Red and a Golden Delicious that was introduced in New Zealand in 1965. It is an easy-eating sweet apple that retains quality well into April when stored properly.

Sweet pleasant flavour, and surprisingly punchy when freshly picked.
Early October
Late Season (Mid to Late October)
King of Tompkins County: This is an old U.S. variety first discovered in New Jersey in 1750 and introduced to the marketplace in 1804. It is not only an iconic eating apple but also a great cooker.

Outstanding. Crisp, coarse, juicy flesh. Sweet, subacid, aromatic flavour.
Mid October

Karmjin de Sonnaville: This apple is a great keeper and intensely flavoured eating apple. It was bred in the Netherlands and introduced in 1971.

Outstanding, intense flavour. Acidic and juicy.
Mid-Late October

Belle de Boskoop: Discovered in Boskoop, Netherlands in 1856, this apple is a national treasure. This Dutch apple is both a wonderful eating and cooking apple that stores incredibly well (up to 6 months).

Coarse yet tender, juicy flesh. Sweet, subacid. Best after some time in storage.

Egremont Russet: No orchard is complete without a russeted apple. This variety was discovered in England and introduced in 1872. This apple is fairly dry, with a rich, complex, nutty flavour.

A firm, dryish apple with cream-coloured flesh and classic old-time sweet and nutty flavour. The sugar is nicely balanced with acidity.
Late October

Winter Banana: This is a classic apple that your grandparents would have loved. Don't let the name fool you, it is an aromatic apple but maybe not as tropical as the name suggests. It was discovered in Indiana in 1876. Farmers love them as they are fabulous pollinators.

Crisp, juicy and aromatic, with a good sugar/acid balance.
Late October

Airlie Red Flesh: This lovely yellow apple packs a huge surprise when you bite in to find rose-red flesh on the inside. It is not just delightful, it is also truly delicious making it an amazing eating apple. It was discovered in Airlie, Oregon in 1960.

Hard, crisp, juicy, sweet, rich flavour.
Late October
Very Late Season (November)
Topaz: This is a super-crisp, tart, flavourful red apple that keeps well and is often favourably compared with the more well known Honeycrisp. It was bred in the Czech Republic and introduced in the 1990's.

Crisp, cream-coloured flesh, with a distinctive tart and spicy flavour.
November

GoldRush: This apple is favourably compared with the well known Granny Smith. It was bred in Indiana and introduced in 1994. It stores for a whopping 7 months and is an amazing fresh-eating apple. The late-season and extended storage of this apple keeps us in apples almost all year long.

Complex, spicy flavour, sprightly acidity. Crisp. Improves with time in storage.
PEARS
You may recognize this fruit from our logo. These are a favourite staple here and the heart of our farm. Who does not love a juicy sweet pear that has been stored to perfection?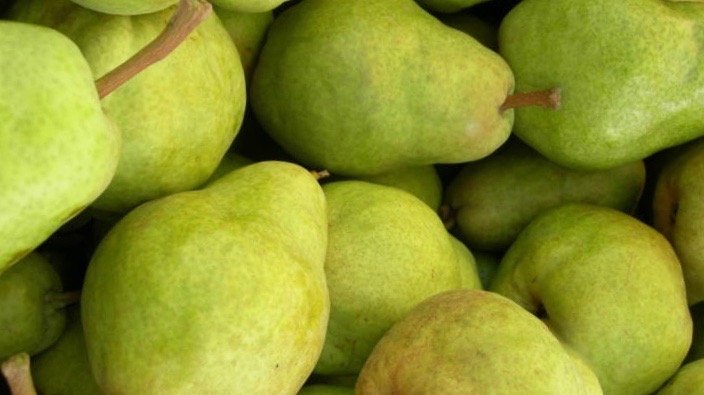 European Pears (ripen off the tree)
Clapp's Favorite Pears: Clapp's Favorite Pear Tree is one of the best pears for fresh eating. It features large fruits with gorgeous yellow skin and a red cheek, a very fine texture, and severe juiciness. Originally from Massachusetts, and discovered in the 1800's this pear has been a favorite for centuries. Available in August, this pear is best to be eaten soon after harvest.
Bartlett: This is no doubt one of the most popular pears here and in Europe where it goes by "Williams". It is this flavourful, heavily aromatic, sweet vanilla, crisp fruit that we often think of as a classic "pear". It is great for eating and canning. Available in August/September, it softens and sweetens in storage for up to a month.
Flemish Beauty Pears: A hardy Belgian pear. The fruit is medium to large and rounded in shape with yellow skin that has a beautiful red blush. Flemish Beauty has cream-colored flesh that is firm, juicy and delectably granular with a distance musky sweetness that sets it apart. Excellent for fresh eating fresh, peeled on a cheese plate, or used for drying. It ripens mid-season towards the end of September. These are best eaten fresh soon after harvest and should be kept in the refrigerator until you they are ready to eat.
Beurre Bosc Pears: This is another classic pear that is perfect for eating, baking or drying. It is smooth-skinned with creamy, aromatic, vanilla flesh that is juicy, sweet and tender. The taste is almost buttery, and Bosc pears are crisper than other pears. It is great for cooking or peeling and eating fresh to especially enjoy the buttery, smooth texture. It is harvested in October/November and stores well into December when kept properly cool. This variety freezes well and can stay in the freezer for a few months too.
Available late August to November
Asian Pears (ripen on the tree)
Asian pears are a sweet, low-calorie, high fibre treat. These pears are extremely durable after ripening and can be stored in the fridge for six months. They are great for canning and freezing because of the firm, dense flesh.
Shinseiki: Juicy, sweet, refreshing, crisp like an apple.
Nijisseiki: This is arguably the sweetest variety of Asian pear. Juicy, super sweet, mild flavoured fruit is crisp like an apple.
Chojuro: Russeted golden brown skin. Crisp, juicy, white flesh. This variety is known for its butterscotch flavor.
Available starting in August
Stone Fruit
Try our dried plums and we're sure you'll be a regular! 😂
Plums
Yakima: Very large, purple fruit.
Italian Prune: Excellent fresh, canned or dried. It is purple skin, sweet yellow flesh with a freestone.

Available late August to early September

Stanely: Deep purple skin, firm, sweet golden flesh, and a freestone. Tastes great when picked fresh or when dried or canned.

Available early September

Brooks: Very large and sweet, yellow-fleshed, dark purple plum that is great for fresh eating, preserves, canning and drying.
Yellow Egg: Very sweet and is grown for the outstanding quality of the fruit which is excellent for dessert, cooking, and canning. It is golden skin, sweet honey flavoured yellow flesh with a freestone.
Apricots
Tilton: Firm, golden-yellow red-blushed fruit. Fine-textured. Excellent for eating, freezing, drying or canning.
Wenatchee (Moorpark): Orange, juicy, sweet fruit. Fine-textured, Excellent for eating, drying or canning.
Peaches
Frost: Med-large, freestone, yellow flesh. Red-yellow skin. Excellent quality, heavy producer.
FIGS
Nothing beats the taste of a freshly picked fig, if you don't like figs, you have never had a fresh fig! Figs store well for just a few days, then extra fruit can be dried or used in preserves. 😋
Desert King: Yellowish-green figs with delicate, sweet, and richly flavorful, strawberry coloured flesh.
Black Spanish: Midsized black fruit with dark mahogany coloured flesh. This is a very sweet, juicy, and firm fruit.
Vern's Brown Turkey: Large, sweet and flavorful, dark brown figs with light amber flesh.
Little Miss Figgy: Delicious medium-sized green fruit with deep burgundy flesh.
Available July through August
KIWI
Our vineyard has three types of fuzzy kiwi vines, the "Hayward" kiwi variety from New Zealand which you most commonly find in grocery stores, it's cousin, the "Saanichton-12" variety, originating just across the inlet from us on Vancouver Island, BC, and the self-fertile "Jenny" hybrid. All are heavy producers of large, sweet, flavorful fruit. Jenny and Saanichton ripen a little earlier than Hayward and are a bit more cold-hardy.
We also have "Issai" self-fertile hardy kiwi vines (also known as kiwi berries). They are hardy to -30 degrees Celsius, have a smooth edible skin, are about the size of a large grape, and are slightly sweeter than a kiwi.
Fuzzy kiwi: Available November
Hardy kiwi: Available late summer/early fall
OTHER FRUITS
Grapes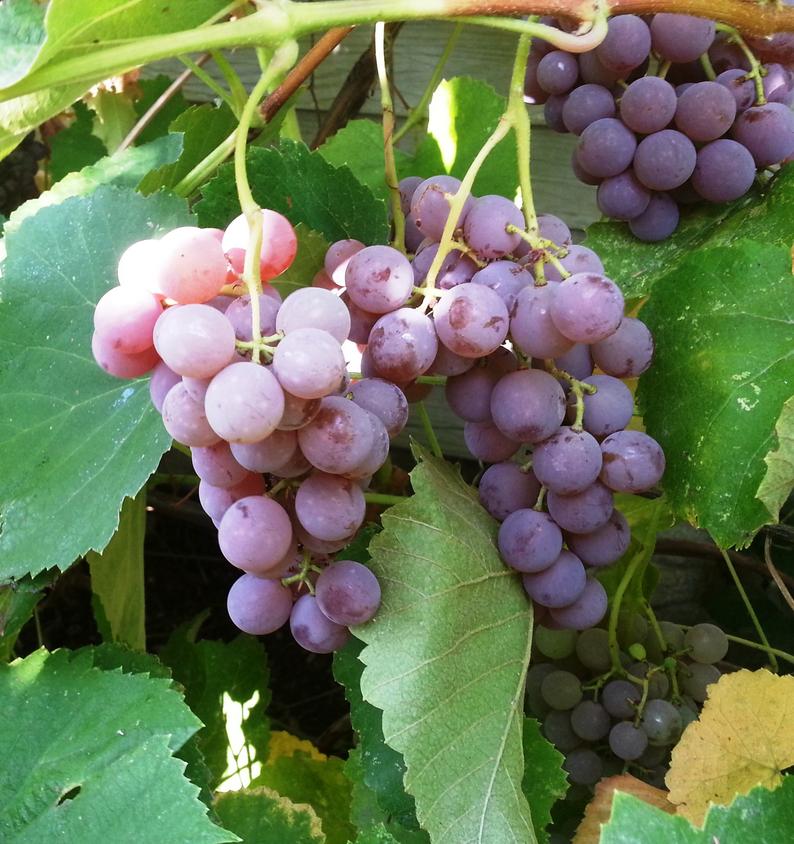 We have started two varieties of red seedless grapes, Canadice and Red Suffolk, and one variety of white seedless grape, Niagra. We are excited to have these available when they are established, as well as making an appearance in our jellies. They will be available late summer and late fall respectively. On top of our table/juice grapes, we have a large block of Pinot Noir that was established in 2000.
Blueberries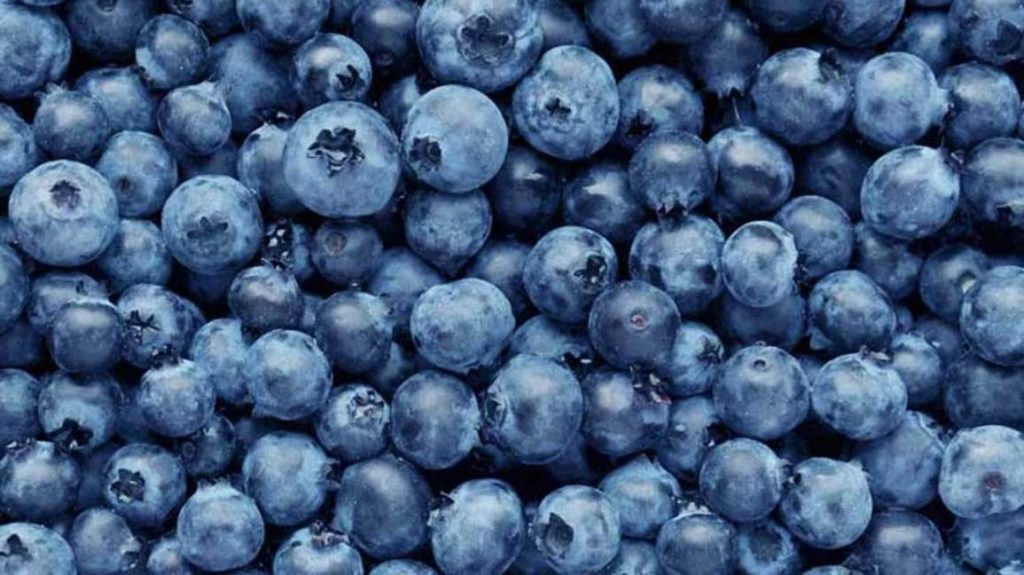 We rescued 23 plants from a neglected patch of 300 bushes on the property. This is their first year in production. We suspect they are Duke and or Chandler varieties, but time will tell. We are looking forward to our first harvest from them this summer/fall. In addition to the rescued berries, we have added a few "Razz", "Duke", "Polaris", "Bluecrop", and Patriot" varieties to our patch.
Goji Berries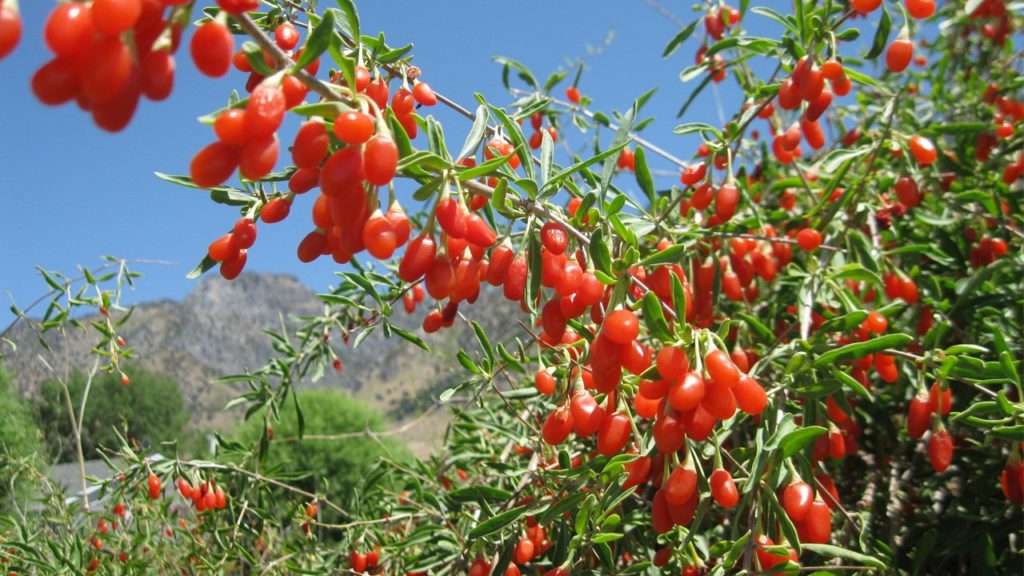 This deciduous shrub produces berries that are subtlely sweet and sour. They are nutritious and pack more cartene than carrots, have extremely high levels of antioxidants, pack in a lot of minerals, and are a complete protein. That is right, they contain all the essential amino acids. Eat them raw, cooked, or dried. Varieties include: Firecracker, Dynamite, and Amber Sweet.
Available late summer to late summer
Haskap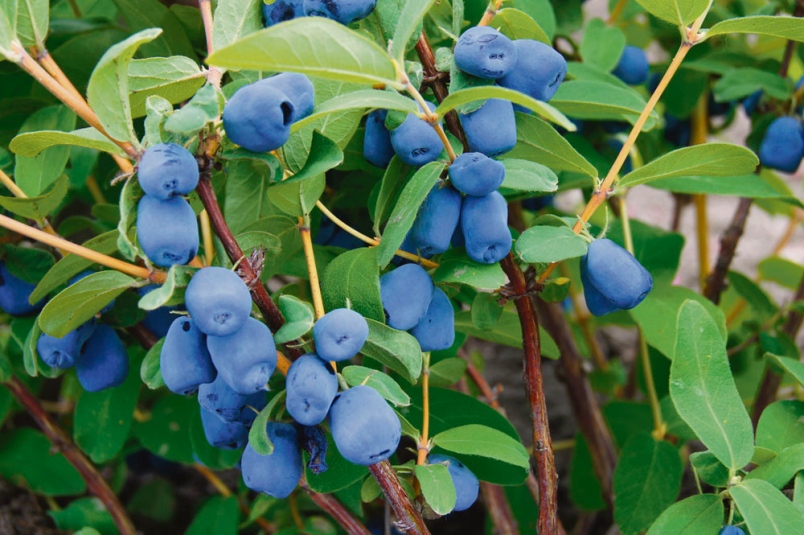 Berry Blue Honeyberry: Early, tart, and an excellent pollinator.
Borealis: Early, sweet, tangy, and medium sized berry.
Varieties coming soon: Aurora, Strawberry Sensation, Boreal Blizzard, & Boral Beauty
Availability: June
Raspberries
Everbearing Heritage: Everbearing large, firm, sweet red fruit.
Everbearing Fall Gold: Everbearing yellow fruit with great flavour and texture.
Munger Black Raspberry: Big on black raspberry flavour and small on seeds. This raspberry has a sweet and distinctly funky taste. It is a farm favourite.
Purple Raspberry: A late-season variety with very large, firm, tasty, purple fruit.
Tulameen Raspberry: A late-season variety with large, firm, tasty, light red fruit.
Availability: Everbearing varieties have a light early crop in July and heavy crop mid-August to September and other varieties are available mid-August to September
Saskatoon Berries
Saskatoon berries are tasty fresh, frozen, or processed in jam, syrup, pies, or other baked goods.
Available July
Persian Black Mulberry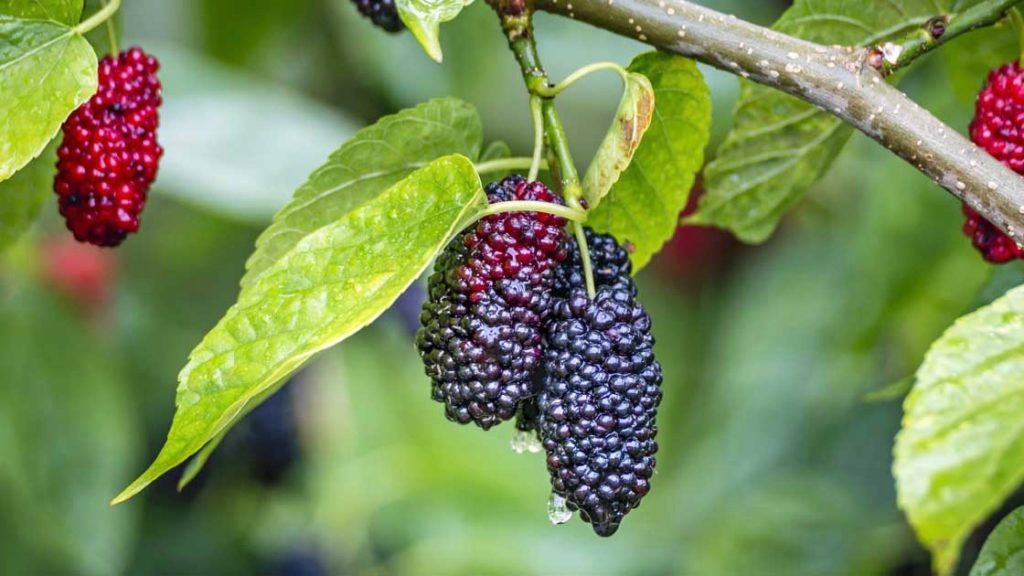 This is possibly the best fruit you have ever had! It is a super sweet black fruit, watch out, it stains, but it is SO worth it. This fruit is exotic, sweet, and delicious. It can be eaten fresh or dried for a winter snack.
Available late June through early September
Olives
We are lucky enough to live grow in zone 8 which makes this wacky experiment possible. With a Southern exposure and wind barrier to the North, our olives feel almost at home. With several varieties, we look forward to producing both table fruit and oil.
Arbequina: Spanish olive. This drought-hardy tree produces gourmet quality, early ripening, round, black/purple, olives for both oil and table eating. Olives are mild, very aromatic and sweet.
Chemlali: Tunisian olive. Drought-resistant and cold-hardy, these olives ripen early and are on the smaller side with a bold flavour. They produce a high-quality oil with notes of apple.
Leccino: Central Italian olive. Good as a semi-ripe or ripe (black) table olive or a mildly fruity, spicy, sweet olive oil.
Manzanillo: Spanish olive. This is one of the most popular eating and oil varieties. The flavour is aromaticly fruity and peppery.
Ripen October-November
West Coast Wild Berries
We have several wild stands of blackberries and salmonberries on our farm. These are not a cultivated, but you are likely to see fruit from these delightful berries making appearances in a few of our other products.
Citrus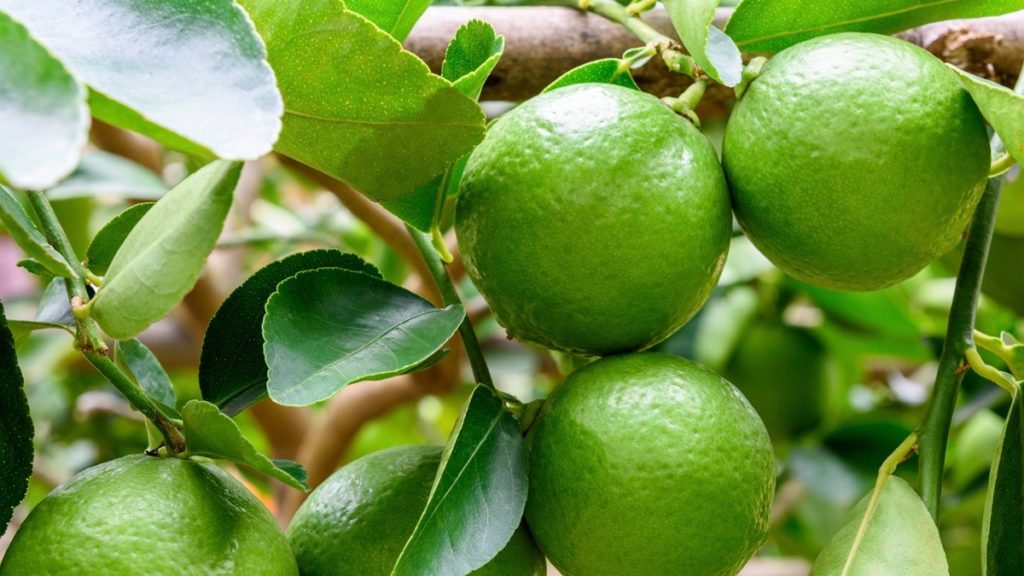 Bearss Lime: Also known as a Tahitian or Persian lime, the fruit is larger than a Mexican lime, around 2-2.5″ diameter. It has thin smooth rind and seedless pale green-yellow, juicy, finely textured, acidic flesh.

Available October to January

Variegated Lemon: Also known as a Eureka lemon this cultivar has unique pink flesh with a variegated green and yellow rind.

Available November to March

Meyer Lemon: Sweeter and less acidic than a common lemon with deep yellow-orange flesh.

Available November to March

Avocado: We've got two trees in our solarium that are maturing nicely. Check back in a few years for Cobble Hill avocados!
Nuts
Hazelnuts
Ground into nut butter, roasted, serve in cereal, baked goods, or even as an ice cream topping, this nutritious snack is sure to satiate! We have Theta and Jefferson varieties for optimal pollination and harvests.
Available September
Plans for the upcoming years
Fruit Trees
As we restore the farm and tame landscape, we plan on pruning and finding pollinators for several of the cherry trees on the farm. In the upcoming years, we hope to see very fruitful yields off the trees we have and perhaps add a few more varieties to the farm.
We also have grand plans for expanding our indoor solarium. In addition to our Bearss lime tree, we are excited to experiment with lemon, kumquat, avocado and banana trees. It might just be a dream, but can you imagine the flavour of a freshly picked lemon? This dream will be many years in the making, for now, we are excited by the possibility. Part of our commitment to sustainability is to start small. Hopefully, you will enjoy the journey with us as we experiment with these unexpected fruits.
Gardens
Plans for the upcoming season include preparing and seeding our beds to offer up a bounty from three separate garden areas, fondly referred to as the "Pie Garden", "Salsa Garden", and "West Coast Veggie" gardens. Each raised garden will be prepared and maintained with organic methods, bursting with goodness and personality. We are looking forward to sharing our abundance! Stay tuned for more updates as more veggies, herbs and unexpected treats become available.
If you see something in our plans that excites you or if you want to see something in our future development, just let us know!